Orthodontics
Fastbraces®
We want to provide our patients with the dental options that best suit their needs, which is why, for patients who want to improve their smile, we proudly offer the Fastbraces system! Developed by Dallas orthodontist Dr. Anthony Viazis almost 20 years ago, the Fastbraces system is a remarkable step-up from conventional braces, offering the same great smiles that traditional orthodontics provides, with less sensitivity for patients, and a greatly reduced treatment time. In fact, Fastbraces can get you in and out of braces in as little as three months to a year! If you're ready for a dazzling new smile sooner, ask us about Fastbraces.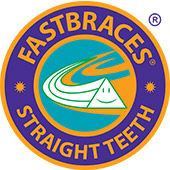 Dr. Robert Mantoni is
a proud Fastbraces provider:
braces technology that is fast,
safe and affordable.
Invisalign®
Invisalign is the clear way to straighten teeth without braces, using aligners. Aligners are removable and virtually invisible, which means you can straighten your teeth without anyone knowing; and you can still eat and drink what you want. Also, you can brush and floss normally to maintain healthy gums and teeth; and there are no wires, metal or brackets to cause mouth abrasions.
Many of our patients had never considered traditional braces but are now happily and comfortably improving their smiles with Invisalign.
What is Invisalign?
Invisible way to straighten your teeth without braces.
Series of clear, removable, custom-made Aligners.
Uses no metal wires or brackets.
Custom-made for comfort.
How does Invisalign work?
Wear each set of Aligners for about two weeks.
Remove only to eat, drink, brush and floss.
Your teeth will move gradually each week.
Visit us every 8-10 weeks.
Total treatment time averages 6-15 months.
Average number of Aligners is between 18 and 30.