Our Staff
 Wendy Ulzheimer, R.D.H.
---
Wendy is a proud Maryland native. She earned her Bachelor of Science degree in Dental Hygiene from the University of Maryland. Wendy also holds a license from the District of Columbia. She is an active member of the American Dental Hygiene Association. Wendy has worked for Dr. Mantoni for over 25 years. She participates in projects with the Armed Forces Retirement Home, the Knollwood Military Retirement community, the Homeless Coalition in Montgomery County and the Mission of Mercy in College Park, MD. When she is not creating beautiful smiles, Wendy rides a motorcycle, teaches and plays volleyball. She also likes to read and travel.
Lauren Marques, R.D.H.
---
Lauren graduated with her Associate of Science in Dental Hygiene degree from Miami Dade College in Miami, Florida. She is an active member of the American Dental Hygiene Association, the Maryland Dental Hygienists' Association, and is licensed in local anesthesia. Lauren takes an interest in the mouth-body connection in systemic health and nutrition.
In her spare time, Lauren enjoys the outdoors (hiking, camping, kayaking), traveling, yoga, attending concerts, lots of cooking, and being a homebody with her cat, Scully!
Francisca Araujo, R.D.H.
---
Originally from Brazil, Fran spent most of her life in Florida where she learned English and Spanish. She received her dental hygiene degree at Miami Dade College, completed her internship at the VA hospital, and acquired her local anesthetic license at the University of Maryland School of Dentistry. Fran aims to provide each patient with the best care possible, while also striving to stay honest with patients about their dental health. Her time in Florida inspired a love of the beach, and her vacations often lead her back to the ocean.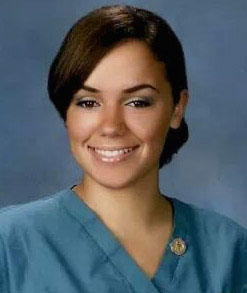 Susie Francos, R.D.H.
---
Susan Francos is a Registered Dental Hygienist in Maryland, District of Colombia, and Florida. Since graduating from Miami Dade College in 2010, she's been a part of many volunteer services including Mission of Mercy and the Special Olympics.
Susan was born and raised in Miami, Florida. After high school, she worked as a dental assistant where she began gaining experience in the dental field. Upon graduating and acquiring her license as a dental hygienist, she worked in various dental offices throughout South Miami.
In 2011, Susan decided to expand her horizons. With her dental tools in one hand and the rest of her belongings in another, she moved to Australia where she traveled for six months along the east coast. On her journey, she worked as a dental assistant in Brisbane, Queensland.
Shortly after returning to Miami to continue her career in dental hygiene, Susan made another bold and adventurous move to Silver Spring, Maryland. She has been working as a dental hygienist with the Mobile Dentist for the last three years. There, she has gained an array of experience, specifically with geriatric patients as well as those requiring special needs. Susan is also a proud hygienist to the veterans residing in the Armed Forces Retirement Home of D.C.
When she's not fixing a smile, she spends her time exploring new places and capturing memories through photography.
Amanda Beck, R.D.H.
---
Amanda is originally from the GREAT state of New Jersey but has been living in Maryland for about 5 years. Amanda graduated from Fortis College dental hygiene school in 2014 and has been practicing hygiene for almost 2 years. Amanda enjoys spending time with her family. She also enjoys spending time at the beach or at an Orioles baseball game whenever possible.
 Zuly Ferrufino, C.D.A., C.O.A. AFRH Contract Specialist
---
Zuly is from California and moved to Virginia in 1996. She began working for Dr. Mantoni in 1996 and has become a certified dental assistant as well as a certified orthodontic assistant. Zuly is the Armed Forces Retirement Home contract specialist. She enjoys road trips while traveling with her daughter to Los Angeles and New Orleans.
---
Dina Garza, C.D.A.
Dina is a retired military Veteran with countless years of people management experience and holds a degree from Georgia Military College. Dina takes pride in her job as a business manager working and collaborating with various business clients and dental insurance companies to ensure patients always get what they need to achieve and show off that "perfect smile". In her free time, she loves cruising the Caribbean Islands with her family and riding her Harley alongside her husband.
---
Parween Torres, C.D.A., C.O.A.
---
Tasmin Richmond
---
Jessica Espinoza, C.D.A.
---
Jenny Bonilla
---
Karen Guzman
---
Judith Villatoro
---
Karenn Marinho
---
Kamila Marinho
---
Tina Williams
---
Nick Rodriquez
---
Markey Harris
---
Danielle Bodolay
---
John Lewis
---
Stephanie Frierson, C.D.A.
---
Yuri Rodriguez
---
Sidney Robinson
---
Idalia Flores